Ian
Information coming soon.
Michele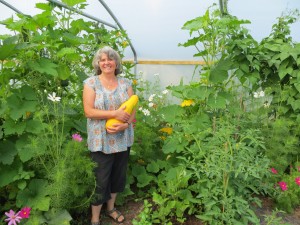 Michele Darnell-Roberts is married to Ian and is the main grower at Brook End. She is a member of the Feed Avalon Co-operative. She is passionate about growing vegetables and cooking wholesome and nourishing food! She caters for all the events at Brook End. She has experience teaching cookery with local charity Somerset Community Food and enjoys sharing her enthusiasm for healthy eating with others. Michele has a Certificate in Community Horticulture and is a retired mental health nurse, with a passion for earth-based spirituality.
Contact Michele: michele@brookend.org.uk
Nicole
Nicole Vosper is Michele's daughter and returned to Somerset in 2010 to help develop Brook End. She is passionate about permaculture design, herbalism and alternative ways of living. She worked for local charity Somerset Community food before starting Feed Avalon in 2013. Nicole has a Diploma in Horticulture, BSc Integrative Ecosocial Design and is currently undertaking an MSc in Political Agroecology with Gaia University International, exploring how we can accelerate the speed and scale of transitions to agroecology. She also organises with Reclaim the Fields, the Vegan Organic Network and the UK Food Sovereignty Movement to demand social and ecological justice in the food system, as well as other local campaigns and projects. She also runs a website called Empty Cages Design.
Contact Nicole: nicole@emptycagesdesign.org